Petanque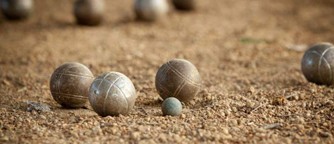 Enjoy Petanque
Authentic Petanque court
Petanque, similar to bocce or bowls, originated in 1907 in Provence, in Southern France where it remains an extremely popular outdoor activity, especially during the summer holidays. The English and French name petanque is derived from the expression pès tancats meaning "feet together" or more exactly "feet anchored".
---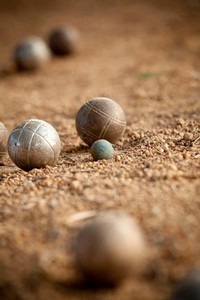 Come and join us and have a game with your friends, family or colleagues. Our petanque courts are available for play during cellar door opening hours. The boules, rules and jacks can be borrowed from cellar door without charge. Enthusiastic players can also provide their own equipment.
HOW TO PLAY
Pétanque is played by two, four or six people in two teams. You play with metal boules and a jack also called a cochonnet (or "piglet"). While standing inside a starting circle with both feet on the ground, the goal is to place your metal boules nearer to the jack than those of your opponents.
Click here to download the complete rules & to learn the difference between pointing and shooting.