Cabernet Sauvignon 2013 with Gift Box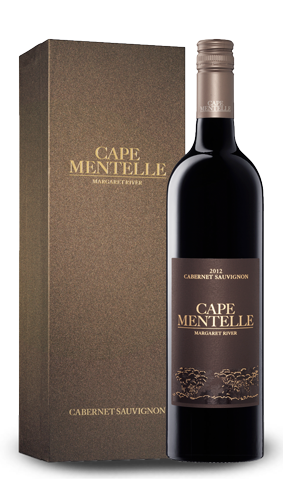 "The king of grapes and the emblematic wine that put Margaret River on the map"
Cape Mentelle has a rich history of exceptional quality and consistency with Cabernet Sauvignon from a pioneering producer in Margaret River in the early 1970's to a benchmark producer today. A single vineyard wine with the style evolving over time, the aim always to define a wine displaying classic varietal character and opulence, strong regional identity and with the structure and fruit intensity to improve with extended cellaring.
Nose
The first notes on the nose are enticing and herbal, reminiscent of bay leaf and dry thyme. The nose then opens to intense ripe cassis, black pepper, smoke and cocoa with hints of fresh rolled tobacco leaves.
Palate
The bright red attack explodes with red currants and fresh cassis, followed by touches of cloves and juniper berry. A graphite, mineral backbone leads to a still fresh finish supported by structural fine and savoury tannins.
Blend
91% Cabernet Sauvignon, 8% Cabernet Franc, 1% Merlot.
Cellaring
To enjoy young, we recommend decanting this fiery Cabernet. Will reward cellaring 25+ years.
Food Pairing Notes
Grilled tri-tip or prime rib roasts, roasted game birds with wild mushrooms.
The Vineyard
Cape Mentelles Estate vineyard was first planted in 1970 with additional plantings in 1988 on a ridge of free draining lateritic gravel cooled by strong westerly sea breezes. For over 30 years the best parcels of Cabernet have been carefully managed to produce grapes with full concentrated flavour and with a firm yet fine tannin profile. The grapes are harvested by hand and sorted in the field then again at the winery to ensure the best possible expression of fruit character and structure each year.
The Season
The lead up to harvest experienced a wild, cool and windy November which interrupted flowering and fruit set and ultimately resulted in the lowest yields for a decade. The summer leading into the 2013 vintage recorded temperatures well above average with perfect ripening conditions with white fruit harvested quickly and early in February and red fruit benefiting from a cool and mild March allowing extended ripening and full tannin maturity. Another great vintage for Margaret River.
Winemaking
The hand picked fruit underwent destemming and berry sorting followed by light crushing. Individual vineyard batches were fermented on skins for up to 30 days. At the desired balance of fruit and tannin extraction, each batch was gently basket pressed, with harder pressings kept aside. The individual parcels were racked to oak following pressing for malolactic fermentation. Regular rackings over an 18-month period ensured the individual wines are at their best prior to blending. The wines were matured in selected Bordeaux coopered barriques of which 50% were new with the balance being one year old. The final blend bottled in October 2014.
Analysis
13.5% alcohol, 6.0 g/l acidity, 3.58 pH.
The West Australian Wine Guide 2016
The cabernets from Cape Mentelle in recent years have reached a new plane of excellent. This is yet another that confirms the place of this producer among the greatest of the region. Leafy tobacco-like notes with such attractive perfumed fruits on the nose. The palate is so refined and elegant yet with deep concentrated intensity of fruit supported by chalky tannins and fine grained oak.
huonhooke.com
The colour is medium red with both brick-red and purple tints, and shows a little forward-development. The bouquet has sandalwood and coconut, briar, mint and leaf notes. The palate is elegantly weighted and sinewy, with a touch of leanness. The tannins are domineering and the finish is chewy and grippy. This needs more time, but doesn't seem like a top-line Mentelle cabernet. Two days later, the wine is transformed. The bouquet is very detailed and subtly complex, not super-ripe but fragrant and lovely, with hints of cedar, violets and dried flowers. The palate is deliciously drinkable, elegant and nuanced, soft and finely-textured. Great line and length, but not big or imposing. A really tasty cabernet, which is not typical of the region or maker.
Jamessuckling.com
"A bold and meaty wine that has a very fresh, fragrant and lively style that makes for exciting tasting. Some very smooth, mellow and nicely ripe rich fruits on offer, custard spices and mocha oak, dark chocolate too; very complex and alluring. The palate has supple, soft and ripe mulberry, cherry and plum fruit flavors, blueberry pie, some pastry-like moments and a fluffy, approachable tannin texture. Drinking well now, has a long window of enjoyment ahead, up to two decades. Brilliant!"
James Halliday
"A seamless parade of varietal and regional flavour. Gone is the brawn of yesteryear; this holds finesse and length closest to its chest. Blackcurrant, cedar wood, dust, undergrowth and gravel/eucalypt characters build a wealth of succulent momentum before lingering on through the finish. Integration of tannin the final quality flourish."
The Wine Front
"The mighty Cape Mentelle Cabernet Sauvignon is a more elegant creature nowadays. Less suited to the "offline"; more suited to a luncheon. This release won't knock anyone between the eyes but it will seduce regardless. It prefers to do you slowly. It's soft, medium-weight, seamless and curranty, with fresh herbs and mints lifting through tobacco/undergrowth/cedarwood. Tannin is a fine, integrated art. The finish is prolonged."
Download all reviews for this vintage as PDF