Margaret River Self Drive Trail

When visiting the Margaret River region, get side-tracked in beautiful places with self-drive trail guides for the naturally adventurous. See more of what matters with these recommended routes to take in your own time.
Feel the adventure unfolding in your hands as you explore beyond the expected. Discover wild places, culture, produce, ideas and inspiration to make your next getaway an unforgettable experience.
A curated collection of five coast and country drive trails guiding you towards the parts of the Margaret River Region you're looking for and the parts you didn't expect. Follow them to the letter or use them as your North Star to get back on track if you've wandered off the beaten path (and we hope you do).
Cape Mentelle is delighted to share this beautiful part of the South West region with its incredible neighbours.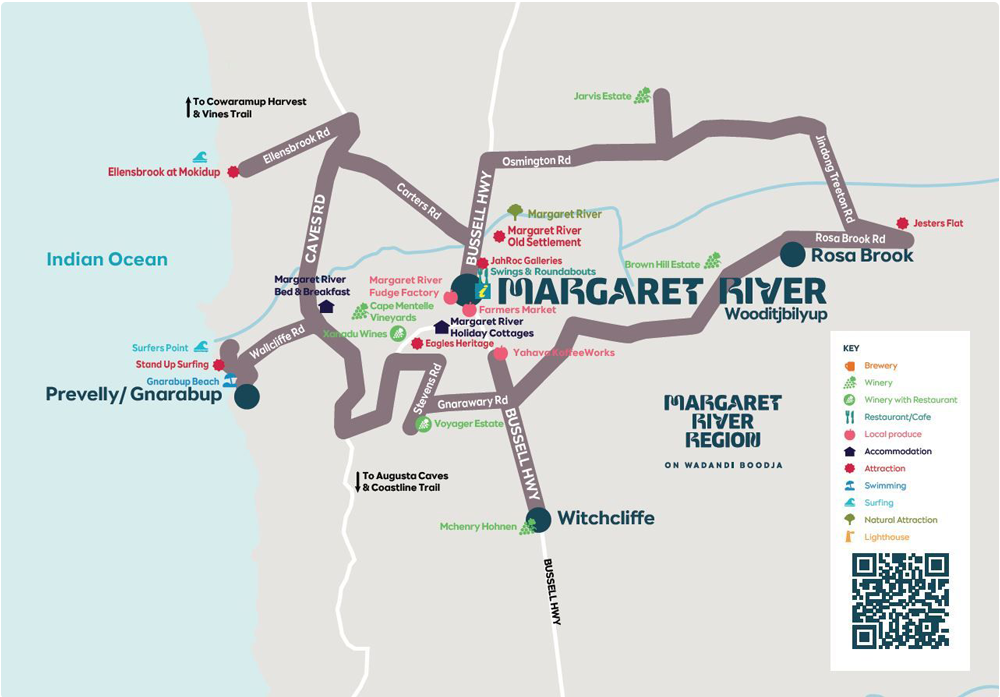 The Margaret River: Surf and Source Trail
Feel the current of the Margaret River – the land's life source.
Like the beginning and end of something much greater, the fresh waters of the Margaret River flow through land, forest and out to sea, sharing life and vitality to all who encounter it.
It is a magic felt in the earth and the people. The experiences are as varied and unique as the inhabitants. But that's the common thread in Margaret River: a connection to place and a contribution to the culture, no matter your background. It's an area of character and characters. Here, legacy wine producers rub shoulders with old salty surfers, tree changers, nature-lovers, enterprising families and artists.
Visitors come to grasp a slice of this life, but many stay to add their own thread to the intricate tapestry. Trickle, current, vine, forest, rivermouth, ocean.
Find detailed maps and guides online at Driveyourstory.com
What to expect when visiting Cape Mentelle?
Cape Mentelle is one of the founding wineries of Margaret River (and the closest to the township itself). It began in the 1970s with winemaking legend David Hohnen, who wanted to make Australian wines known to the world. Today, the winemaking team is made up of multicultural specialists of their field. Cape Mentelle was a first in the region to offer Behind the Scenes visits to guests, and now has a range of tour and tasting options, including picnics and wine flights on the lawn of cellar door. The famous outdoor movie season here is iconic on the summer calendar.